Akhtala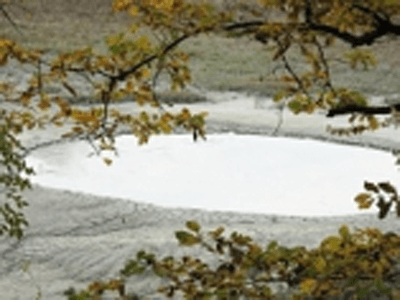 Akhtala – is famous mud resort in Gurjaani, 122 km from Tbilisi, at an altitude of 412 m above sea level. Climate – moderate continental, hot summers, warm winters. Medical factor of resort is hill muds, which are used as for baths, also for applications and tampons.
The unique mud of Akhtala has pseudo – volcanic origin in the western part of Georgia in Gurjaani. It comes from the subsoil of the earth. Of these pseudo – volcanic subsoil every day comes from 5000 to 12000 liters of mud. With mud to the surface comes oil and gas. There is also mineral water with the same mineral content as a pseudo solid matter – volcanic mud, but without it (dirt) content. Varies with the temperature of the mud with the air temperature: the highest in August – 25 degrees Celsius, and the lowest in December.
The first data on the healing properties of Akhtala mud appeared in 40th years of the 19th century. When the doctor Saakova and Lisitseva sent the first patients to the recommended treatment Akhtala and were very happy with the result, first hospital was opened in 1862.
Chemical content of the mud
Mud of Akhtala contains three components::
1. Mineral water with mineral content 45-95%
2. Crystal mixture
3. Colloidal particles
Therapeutic mud of Akhtala contains biologically active trace elements:
Table salt – NaCI
Carbon dioxide Natrum Na2CO3
Calcium K2CO3
Magnium MGCO3
Sulfuric acid Natrium Na2SO4
Carbon dioxide Calcium CaCO3
Gypsum C2SO42H2O
Phosphoric acid Calcium Ca3 (PO4) 2
Bromine
Iodine
Ammoniac
Cations Na +, K +, MG2 + +, Ca +
Anions SI-, HCO3, SO4–, CO3—
According to the Kurlov's formula Therapeutic mud Akhtala consists of:
N14CI84HCO12
Na+a6NG22Ph8, 3
Based on years of experience, careful clinical and experimental observations, differentiated treatments of patients with various diseases were developed in Akhtala resort.
• Inflammatory arthritis
• Rheumatic fever
• Ankylosing spondylitis
• Deforming osteoarthritis
• Gout
• Diseases of bones, muscles and tendons
• Radiculitis
• Sciatica
• Psoriasis
• Eczema
• Women's gynecological diseases, chronic inflammation
• Plex
• Spondylosis
• Prostate, reduction functions
• Remains polio
• After turning front and dislocation
• Cerebral paralysis
• Scarring diseases of the abdominal cavity
Prices for course of treatment: .
One doctor consultation and laboratory analyses – USD 20;
One procedure – USD 25;
Cardiologist consultation – USD 20;
Gynecologic tampons with medicaments – USD 10;
Accommodation in family type hotel (3 meals per day) USD 30 per pers.;
Transfer to/from Akhtala – USD 180.
The service includes:

  Accommodation

  Three meals a day

  Doctor consultation

  Laboratory

  Procedures with mud

  Analysis of blood in the urine

  ECG recording

  Massage

  Physiotherapy

  Gynecologic tampons

  Rectal swabs
Season: April to December
---
More complete version of tours with descriptions and prices you can ask our staff. The staff contact you will find in the section "Contact Us"on our website.